Repair IE is a free but powerful repair utility for Internet Explorer, with Repair IE you can safely clean, repair and optimize the Internet Explorer registry with a few simple mouse clicks! By using this repair tool regularly and fixing registry errors your IE browser should not only be more stable but it will also help improve your IE browser performance.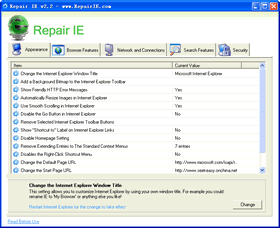 There are times when Internet Explorer will start crashing or producing errors for no apparent reason, especially if your windows system has been infected with spyware, malware and viruses that have damaged your computer, you may find it necessary to fix Internet Explorer from time to time, once the viruses has been removed, you can proceed with a repair of IE.
This program is suitable for Windows 98/ME/XP/Vista systems.
What are Repair IE can do for you?
Open Favorites in a new window
Disable the Internet Explorer HTML Source Editor Check
Change the Download Location for ActiveX Files
Open TIF Images with Internet Explorer
Show My Pictures Toolbar in Internet Explorer
Force Plain Text Format in Internet Explorer
Remove Windows Messenger from Internet Explorer
Open Internet Explorer Shortcuts in a New Window
Launch Browser Windows in a Separate Process
Specify the Location of the Online Support Site
Control Internet Explorer Error Reporting
Disable Internet Explorer Download Notification
Specify the Default Internet Explorer Download Directory
Use an Alternate Source Viewer with Internet Explorer
Change the Auto Complete Mode
Disable the Internet Explorer Script Debugger
Change Links Folder Name on Toolbar
Hide the Internet Explorer Icon
Disable Internet Access
Use System-Wide Proxy Settings
Change the Internet Explorer User Agent String
Change the Branded User Agent String
Change the Number of Simultaneous HTTP Sessions
Internet Explorer FTP Mode
Connect to Unicode Addresses with Internet Explorer
Change the Default Keep-Alive Time-Out in Internet Explorer
Disable Internet Explorer Automatic Proxy Caching
Search from the Address Bar in Internet Explorer
Change the Default Internet Explorer Search Page
Change the Internet Explorer Search Engine
Disable the Custom Search Page in Internet Explorer
Empty Temporary Internet Files on Exit
Internet Explorer Toolbar Restrictions
Disable the Ability to Customize Toolbars
Restrict Web Sites from Installing Software
Disable File Download in Internet Explorer
Remove the Option to Change or Hide Toolbars
Clear the Windows System HOSTS file
Internet Explorer Restrictions
Internet Explorer Control Panel Restrictions (Part 1)
Internet Explorer Control Panel Restrictions (Part 2)
Disable Password Caching in Internet Explorer
Disable Caching of Secure Web Pages
Use System-based Internet Restrictions
Disable Save As Web Page Complete
Disable Access to File URLs in Internet Explorer
Change the Internet Explorer Window Title
Add a Background Bitmap to the Internet Explorer Toolbar
Show Friendly HTTP Error Messages
Automatically Resize Images in Internet Explorer
Use Smooth Scrolling in Internet Explorer
Disable the Go Button in Internet Explorer
Remove Selected Internet Explorer Toolbar Buttons
Show "Shortcut to" Label on Internet Explorer Links
Disable Homepage Setting
Remove Extending Entries to The Standard Context Menus
Disables the Right-Click Shortcut Menu
Remove the Content Advisor and Ratings Password
Change the Default Page URL
Change the Default Search URL
Change the Search Bar URL
Change the Search Page URL
Change the Search Migrated Default Name
Change the Search Migrated Default URL
Change the Start Page URL
Enable Internet Explorer as the default browser
Clear the Internet Explorer Typed Address History
Disclaimer
RepairIE will modify some registry settings for Internet Explorer tweaking, modifying the Internet Explorer registry can cause serious problems that may require you to reinstall your operating system. We cannot guarantee that problems resulting from modifications to the registry can be solved. Use this free software at your own risk.
The software is provided "AS IS" without any warranty, either expressed or implied. The author will not be liable for any special, incidental, consequential or indirect damages due to loss of data or any other reason.